WTTW
Chicago Tonight
Since launching the Student Outreach and Re-engagement centers, or SOAR, Chicago Public Schools has helped 170 former high school dropouts earn their diplomas. The centers provide motivation and training to prepare students for the return to the classroom, as well as helping the students determine which of CPS's Options schools is the right fit. In the first of this two-part series, find out how the program works and what students are saying about it.
Pomp and Circumstances played in the background as students were called to receive a certificate. It seemed like a typical graduation ceremony. But these "graduates" are high school dropouts.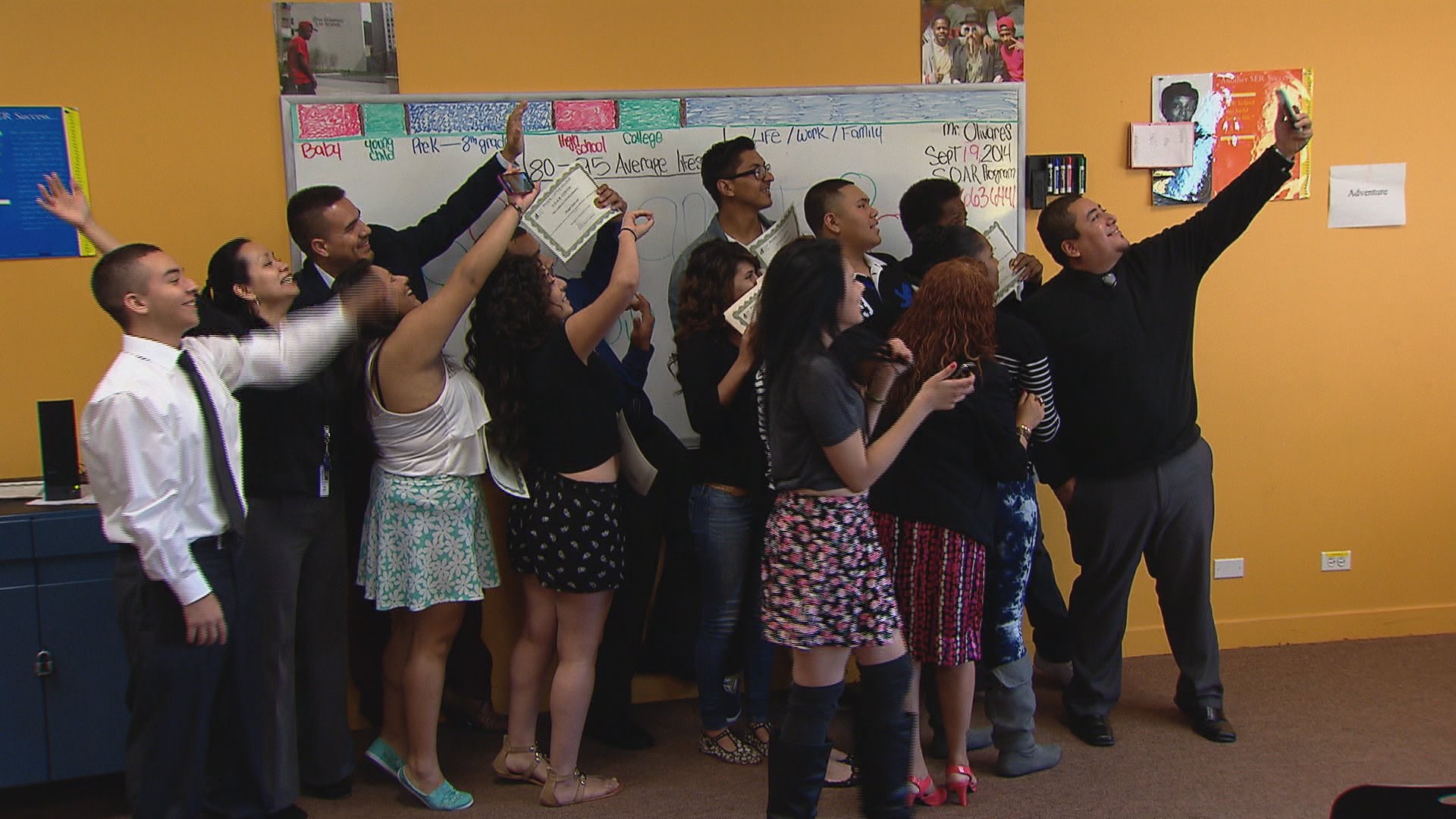 "I'm kind of tired of just being called a dropout," 18-year-old Guadalupe Torres said. "It feels great, there's like a lot of emotions going on right now, but I'm very happy because I can say that I accomplished something."
Torres and her 12 fellow graduates have just completed a two-week workshop at the Student Outreach and Re-engagement centers, or SOAR.
It's designed to get high school dropouts back in the classroom. As part of the graduation ceremony, each student makes a presentation.
"My life before the SOAR program was going nowhere," Torres said in her presentation. "My days spent were spent being overwhelmed by the fact that all my friends have graduated and gone off to college except for me."
Torres says she dropped out twice, once during her junior year, then again the following school year.
"I was in IB [International Baccalaureate] program actually, and it was very tough," Torres said.
One of the re-engagement specialists, Sonia Garcia, says there are numerous reasons students drop out.
"Lot of gang issues, a lot of family problems," Garcia said. "Sometimes they start drinking and then they think they're going to control their drinking."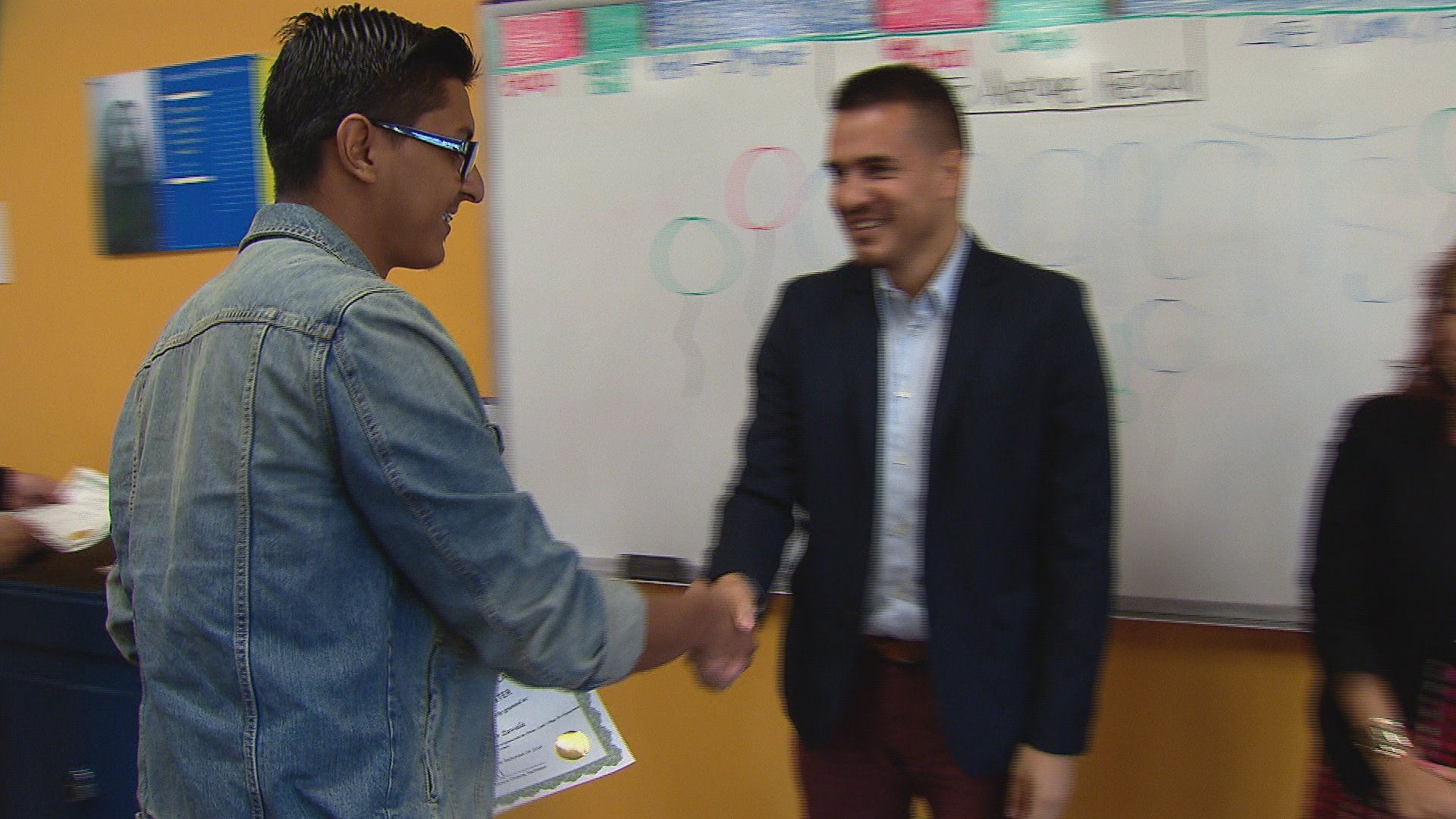 Molly Burke in Chicago Public Schools' Office of Student Support and Engagement explains there are plenty of misconceptions about students like Torres and her classmates.
"[Some people might think] they dropped out because they were lazy or because they weren't committed [or] they didn't have skills to do it and that they really didn't want to graduate," Burke said. "And what I see are a group of students who lost hope. That they had lost their way, and they just needed someone to explain to them that they still had options, and that they can still do it."
CPS has three of these SOAR centers in the city: one in Little Village, as well as Garfield Park, and Roseland. They chose locations for these centers based on areas where dropout trends were concentrated.
"[We wanted to] make sure we're in the communities that were the highest need," Burke said. "And the next thing we did is we took a look at what were school options in areas surrounding there. We wanted to make sure that we had a wide range of options for the students who are coming back into school."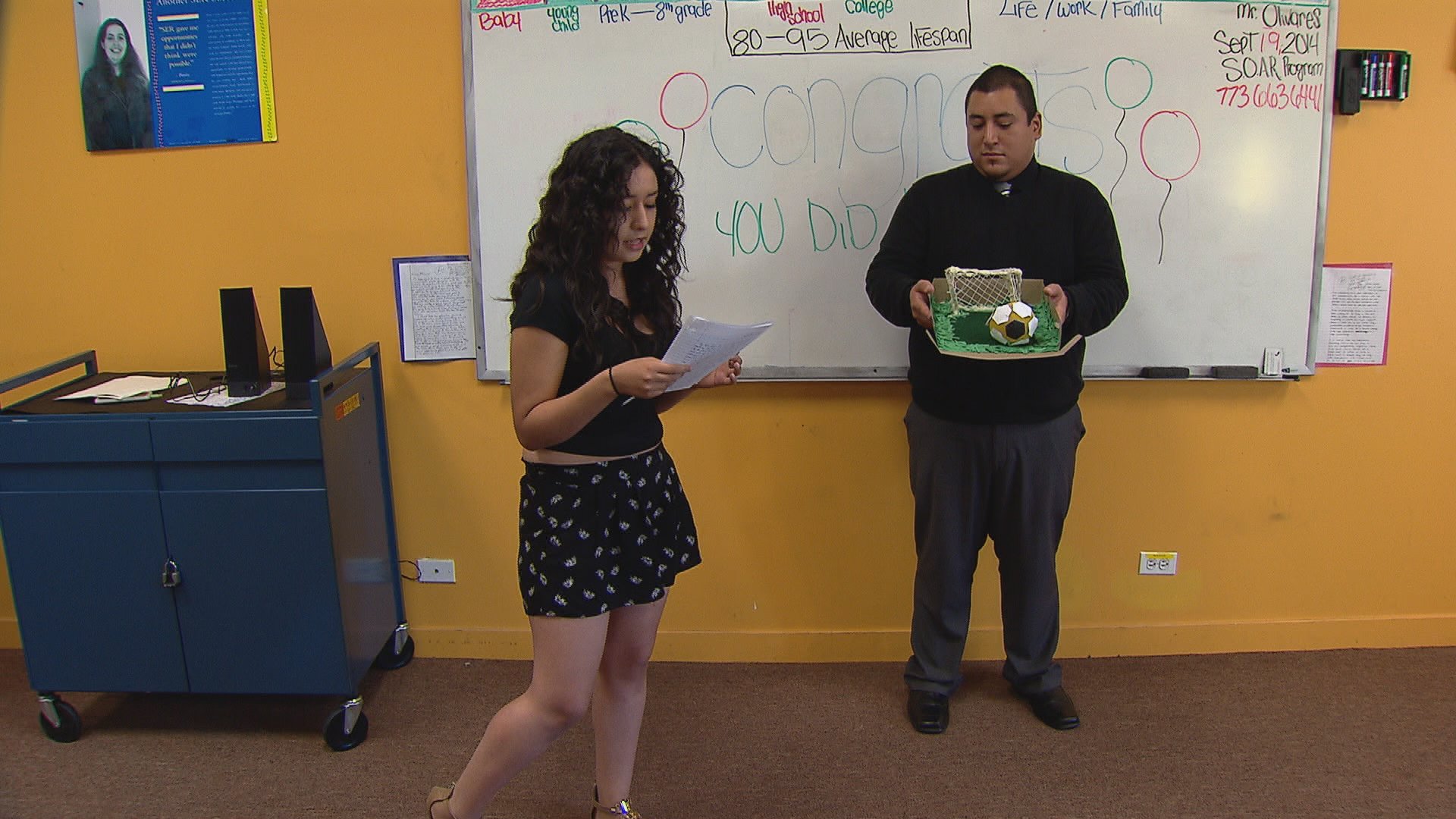 To get students into the center, SOAR specialists reach out to them in the community using flyers or referrals from current students. And CPS provides a list of students who've dropped out.
During the two-week program, students must prove that they're ready to return to school by showing up every day. The workshop is designed to be motivating—and students receive support from their specialists and teachers.
"If they need day care, sometimes we can look into that to see how we can help them with that," Garcia said. "We provide them sometimes with wake-up calls. We check on them on a weekly basis to make sure they're going."
Among the lessons learned? Advisors stress that small decisions can have a lasting impact.
"Because I think as teens they don't really realize how one little thing that they did different can change the whole situation," Garcia said. "For example, just going back to school. When they don't go to school, they don't call. And automatically the school usually takes the approach 'well they don't care.'"
Since the CPS's Office of College and Career Success opened the SOAR centers in February 2013, it's enrolled 2,500 students. And this summer alone, specialists have placed more than 700 students in the district's Options schools.
So far, 170 have gone on to earn their high school diplomas. That's why today's graduation ceremony is so meaningful for the students.
"It's very important for these students to feel a sense of success," Burke said. "It's been a while since they've had academic success and it gave them a goal, and it taught them that they can stay focused and accomplish a goal and have a success."
With this seemingly small victory, Torres can lay out her goals clearly.
"My life is very much like [the soccer ball], it's like a game," Torres said during her presentation. "I went into [the] game having a terrible bad first half. I went on break and stayed there for too long, too afraid of repeating the same mistakes. It's time to get back in the game and get it on. [It's] time to make up for it and give it my all."
Original Link: http://chicagotonight.wttw.com/2014/10/07/cps-helps-dropouts-finish-high-school